Laser Treatments
Conveniently located to serve Reno, Carson City & Gardnerville
Pixel8-RF – Radiofrequency with microneedling
What is the Pixel8-RF?
The Pixel8 is a new device that incorporates bi-polar, radiofrequency (RF) technology to gently improve collagen, tighten skin, and give your skin a smoother, more youthful appearance. Treatments with the Pixel8 can also gently, non-surgically remodel and contour areas of the face and neck. During the treatment, heat is driven deep within the skin layers to stimulate and remodel the collagen and cause elastin cells to regenerate. This results in a firmer, smoother, and more consistent skin surface.
What does the Pixel8-RF treat?
The PiXel8-RF was developed to combat the signs of aging. It most commonly treats the "crepey" skin of the face and neck but can be used over the entire body for skin smoothing and tightening. The PiXel8-RF is suited for all skin types, and after a single treatment, most patients notice that the area treated is smoother and softer. The amount of energy delivered into the tissue is adjustable and the micro-needles can be adjusted from .5mm up to 3.5mm to address each individual patient's needs. The PiXel8-RF uses a unique design for tissue coagulation and hemostasis that may improve fine lines, wrinkles, acne scars, and stretch marks. [Learn More…]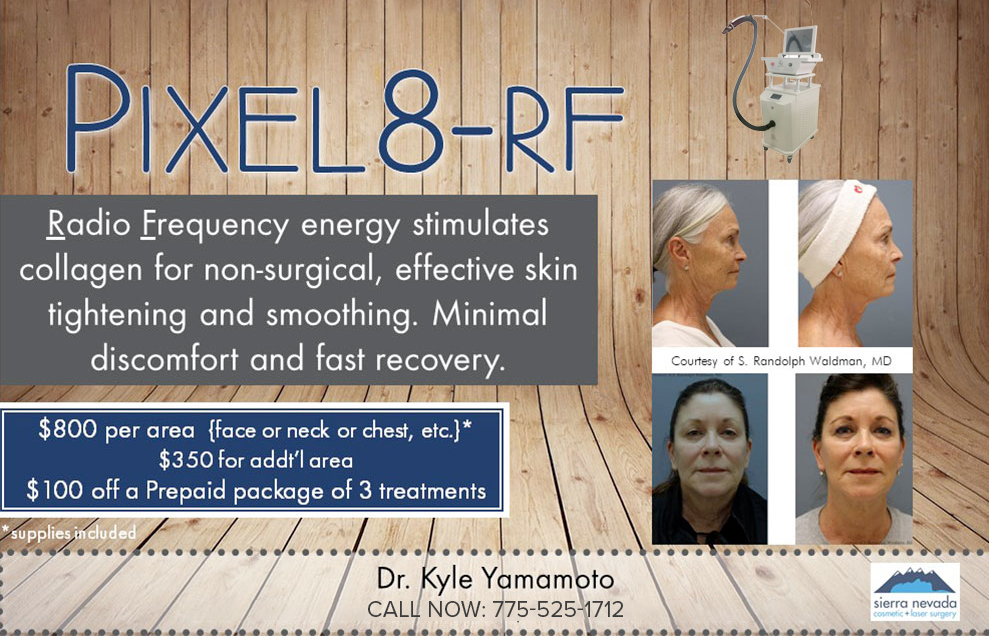 Sierra Nevada Cosmetic and Laser Surgery offer laser systems by Rohrer Aesthetics, including the state-of-the-art Spectrum and Phoenix laser platforms. These allow us to offer a variety of medical lasers for all of your needs, including:
Fractional CO2 and Erbium YAG lasers – skin resurfacing and smoothing
Intensed Pulse Light (IPL) – Pigment, brown, and red spot reduction; skin brightening; and even acne treatment
Long Pulse Nd:YAG laser – Blood vessel and capillary reduction
Diode laser – hair removal
Q-switched laser – Tattoo removal
Laser Resurfacing with fractional CO2
As our skin ages, the collagen and elastin that gives it the qualities of being soft and stretchy start to break down. In addition, sun exposure over many years accelerates the process of losing the smooth, tight skin we enjoy in our youth. Skin's texture becomes rougher, sun spots form and fine lines become more prominent.
One excellent treatment to improve skin aging is laser skin resurfacing. While there are many treatments to resurface and rejuvenate the facial skin, skin resurfacing (think of a laser peel) has become the gold standard for both being highly effective and providing the best overall aesthetic results. This treatment can be performed on the entire face as well as the décolletage and back of the hands.
What is involved in a laser peel? And what is a fractional CO2 laser?
The best way to understand laser treatment is to think of aerating a lawn. Past-generation lasers were more like mowing the lawn—the entire top layer of skin was removed with the laser. These treatments were effective but carried a higher risk of scarring and pigment changes. The new generation of lasers are fractionated—this means that the lasers are designed to "poke" small holes in the skin in a grid pattern. The holes remove a layer of old skin but leave intact areas of skin around it (just like poking holes in a lawn during aeration). The result is an equally effective laser treatment compared to lasers of the past, but with minimal risks of scarring and pigment changes.
A laser treatment consists of first preparing the skin with a skin care regimen that includes retinol, hydroquinone, and glycolic acid. This skin care regimen not only enhances the overall result but protects your skin from potential risks like hyperpigmentation (darkening of the skin).
Numbing cream and cool air are used during the procedure to ensure maximum comfort. In addition, we offer ProNox as an additional option for relaxation. Caring for your skin at home consists of keeping the area covered with protective ointment and avoiding the sun. With meticulous care, most patients recover from the procedure in 5-7 days. While a short amount of downtime is required for this procedure, the results will be better and more noticeable than any basic chemical peel you may have had before.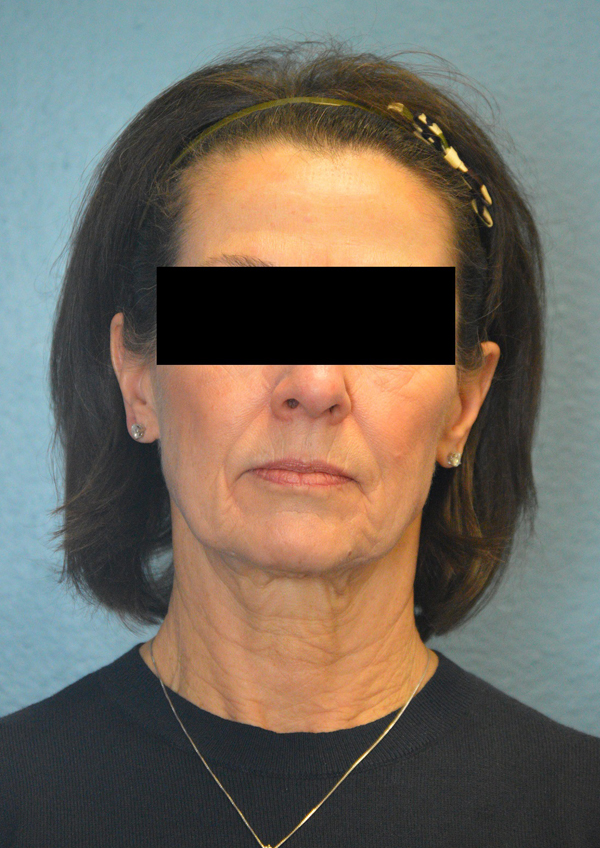 * Individual results may vary.
Photo Gallery
View before-and-after pictures of real patients of Dr. Kyle Yamamoto
A consultation with Dr. Yamamoto will help you determine if and when skin resurfacing with the fractional CO2 laser is right for you.
See Our Finacing Options
Contact Us
View Our Specials
Laser Resurfacing with Erbium
The Spectrum Erbium YAG laser is an enhanced skin resurfacing laser that removes surface pigmentation and removes mild to moderate fine lines and wrinkles. This laser creates a "peel" and stimulates collagen within the skin. The Erbium YAG laser is ideal and very popular for busy people. Treatments require minimal downtime, yet still produce results. You can stimulate your skin and improve texture while still getting back to your daily schedule. This laser can be safely performed on the face, neck, chest and hands, unlike the more aggressive lasers which have their limitations on where they can be performed.
---
–
Written on August 8, 2018
I had the opportunity to have my hands look a little younger with help from Dr. Yamamoto – they look a LOT younger. Dr. Yamamoto has a relaxed and kind manner and is very talented. His office staff are friendly and welcoming, as is he. I also got some wonderful skincare items that have given rise to compliments from my family. I highly recommend that anyone looking for any kind of hand, neck or facial treatment put Dr. Yamamoto's name on your list of doctors to consider. AND the consultations are free!
Read More
---
Intense Pulsed Light (IPL)
The Spectrum Intense Pulsed Light (IPL) is used for a whole host of medical and aesthetic concerns. IPL treatment is best used to reverse sun damage, even out facial color and pigment, as well as improve tone and texture. This gives your skin a brighter healthier appearance. IPL also tightens pores, reduces the severity of acne, treats skin redness, reduces the appearance of scars, and boosts collagen and elastin production. This procedure requires minimal downtime, and most results can be enjoyed immediately.
During an intense pulsed light treatment, several wavelengths of light are used, whereas laser treatments utilize a single wavelength of light. The heat from the intense light energy destroys pigment cells, making areas look clear and even.
IPL treatment sessions usually take around 20 to 30 minutes to complete. Typically, three to six treatment sessions are needed for optimal results. It will be necessary to wait one month between each session to allow the skin to heal.
Laser Vein Removal
The Spectrum Long Pulse YAG Laser is designed to take care of small veins and capillaries in virtually any area of the body. The laser goes through the skin and targets the small vessels underneath. After the laser heats the area, the vein walls collapse and seal shut. The sealed vein is then broken down and absorbed by the body, removing it from view. This laser is excellent at taking care of the annoying little capillaries around the nose and spider veins on the thighs and arms. Some veins can disappear immediately, while others may take several weeks to fade. Downtime consists of some redness and swelling. The occasional bruise can occur but does not affect the final result. Sun protection is extremely important with this procedure as new veins can reappear and take the place of the treated ones with unprotected sun exposure. An SPF of 50 is recommended with reapplication every 2 hours for the best results.
* Individual results may vary.
Photo Gallery
View before-and-after pictures of real patients of Dr. Kyle Yamamoto
Laser Hair Removal
The Spectrum Diode Laser is used for hair removal. This laser attacks hair follicles and permanently removes unwanted body hair on most skin types. The Spectrum Diode Laser has the advantage of being able to treat large areas (think of legs for women, and the back for men) in a short amount of time. This laser can also more gently treat smaller areas like the face and bikini line. After a series of treatments, you can see up to a 90% decrease in hair growth. There is no downtime with this procedure, and it only takes one minute for the upper lip treatment, 5 to 7 minutes for both armpits, and 25 to 30 minutes to complete a session for the legs.
A Spectrum Diode Laser hair removal treatment works by targeting melaning pigment in the root of the hair. Melanin will absorb the energy from the controlled beams of light. This process damages the hair follicle, impairing its ability to produce new hairs. This process is safe for the surrounding skin.
After the treatment session is complete, hairs will eventually fall out, and new hairs will stop growing. Three to six Spectrum Diode Laser treatment sessions are typical to achieve noticeable hair removal. Some areas of the body may require more than six treatments to achieve 80 to 90% reduction in hair. The interval between sessions will depend on the areas selected for treatment and how fast the cycle of hair regrowth is in that area.
Laser Tattoo Removal
The Spectrum Q-switched laser is ideal to treat tattoos of all colors and sizes. This laser uses a high-intensity photo-acoustic shock wave to shatter the tattoo ink into tiny fragments, and the tiny ink fragments are naturally absorbed by the body. The Q-switched laser uses two different wavelengths of light (1064 nm and 532 nm) to specifically target different ink colors of the tattoo. This more effectively fades multicolored tattoos over time. Laser tattoo removal is a procedure that requires multiple treatments to achieve desired results. There is no downtime with this procedure, and it can be performed on every skin tone and type.
Laser resurfacing peel with Yummy Lift
Laser Treatments Cost
The cost for laser treatments will depend on several factors. The number of sessions will influence the final price, as will the severity of the cosmetic issues being addressed.
Schedule a Laser Treatment Consultation
Please contact us today if you have any questions about laser treatments in Reno or would like to schedule a consultation at Sierra Nevada Cosmetic & Laser Surgery. We will build the ideal treatment plan for you in order to help you achieve smoother, more radiant skin.
See Our Financing Options
Contact Us
View Our Specials