Facelift and Mini Facelift
Conveniently located to serve Reno, Carson City & Gardnerville
A facelift is a cosmetic procedure carried out surgically to help a patient look younger by modifying the appearance of the face. Double board-certified facial plastic surgeon Dr. Kyle Yamamoto is considered a top provider of facelift and mini facelift surgery in Reno. In addition to his exceptional surgical skill and vast experience, Dr. Yamamoto provides highly personalized care and natural-looking results that his patients love.
What is a Facelift?
Also known as a rhytidectomy, a facelift can help reduce folds in the skin or sagging skin. All these signs of aging can drastically affect your facial appearance, making you appear much older than you feel. The facelift, as the name suggests, involves lifting the skin of the face, modifying the tissues, and suturing it back. This helps take years off your appearance.
The Traditional facelift
A traditional facelift is a conventional way of carrying out a facelift. This is one of the most common ways of getting a facelift done. The traditional facelift involves a detailed consultation prior to the surgery. Dr. Yamamoto will perform an assessment to evaluate your general health and determine if you are a good fit for the surgery. You will also be given pre-surgical instructions that you must adhere to in order to achieve the best results.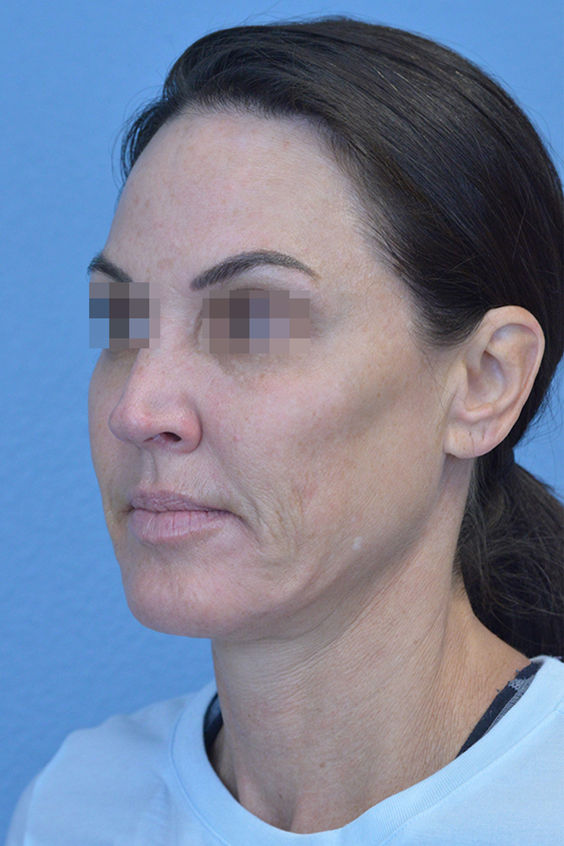 * Individual results may vary.
Photo Gallery
View before-and-after pictures of real patients of Dr. Kyle Yamamoto
The Facelift Procedure
The procedure can be done under local anesthesia with sedation. Depending on your current state of health and comfort needs, it can also be done using general anesthesia. Dr. Yamamoto will mark the areas required for treatment and use them as guidelines to make the appropriate incisions for carrying out the surgery.
The incision is made starting at the forehead at the hairline, moves around the ear, and stops at the lower part of the scalp. The incisions are done in such a way as to hide the scars. Once the incision is done, the skin is lifted. Excess fat is removed and redistributed. The underlying tissues and muscles are lifted and re-adjusted. Once this is done, the skin is draped over the modified contours. Any excess skin is trimmed.
The incisions are then closed using sutures. Usually, dissolvable sutures are used. Some bruising and swelling are common, but these symptoms are temporary and will subside. Medications may be given to help you feel more comfortable as you heal. A couple of weeks rest is advised to ensure a speedy recovery process. The complete results of the procedure will be apparent within a few months.
Mini Facelift
A traditional facelift is a highly invasive procedure that provides significant results, but it isn't for everyone. It requires significant downtime, and recovery also takes some time. Patients who want a less invasive procedure can opt for the mini facelift. This procedure is a variation of the traditional facelift and is designed for those who want to treat the lower part of the face, particularly at the neck or jawline.
A mini facelift involves the following smaller incisions. They are done at the hairline and around the ear. The rest of the procedure is similar to the traditional facelift. Tissues are pulled up and excess tissue removed. When the necessary corrections are made, sutures are used to close the incision.
Complete recovery can be expected after a few weeks. Dr. Yamamoto will provide instructions to manage swelling and any other side effects you may experience. These need to be properly followed in order to ensure the best results possible.
5
–
Written on
I have had Dr. Y do lots of beautifications and everyone asks me how I am looking so fabulous, I tell them my secret weapon is Dr. Yamamoto. He is an artist and will make your face look a million years younger.
---
How Much Does a Facelift Cost?
The price of a facelift depends on the specific procedure performed and whether the surgery is combined with complementary treatments. Once Dr. Yamamoto has determined the optimal treatment approach for achieving your aesthetic goals, the cost and details of your surgery will be reviewed with you.
Contact Our Office
Dr. Yamamoto is a highly skilled, double board-certified plastic surgeon who proudly provides facial rejuvenation with the facelift and mini facelift in Reno, NV. His innovative approach to cosmetic procedures has helped many men and women look and feel their very best. If you're interested in learning more about the facelift and mini facelift, contact Sierra Nevada Cosmetic + Laser Surgery to schedule your consultation today.